By Martha Rush, Chief Educator-in-Residence
Tales and Tips from the Front
Will it be on the test?
Just tell us what we need to know.
It's easier when YOU explain it.
These three sentences—all too familiar to most high school teachers—capture the passive learning mindset.
In their 9+ years of education, our high school students have realized this much about learning:
Learning happens by listening

We learn things just so we can pass tests

Learning is separate from what people do in "the real world"
If you're going to venture into teaching students entrepreneurship, the first step is to un-teach these three misconceptions.
However, this doesn't come without a challenge. Many students are quite satisfied with—and protective of—their passive learning mode. It's not that they really want to sit quietly or take tests, but this is what they know, and there's comfort in the familiar. They know how to play the game. Any other style of teaching and learning is unfamiliar, intimidating, even threatening.
So how do you, as the "Entrepreneurship Teacher," break students out of this predictable, passive learning mold?
#1 Make it Different From Day One
Entrepreneurship class (or club) should be like art class, theatre class, or journalism class.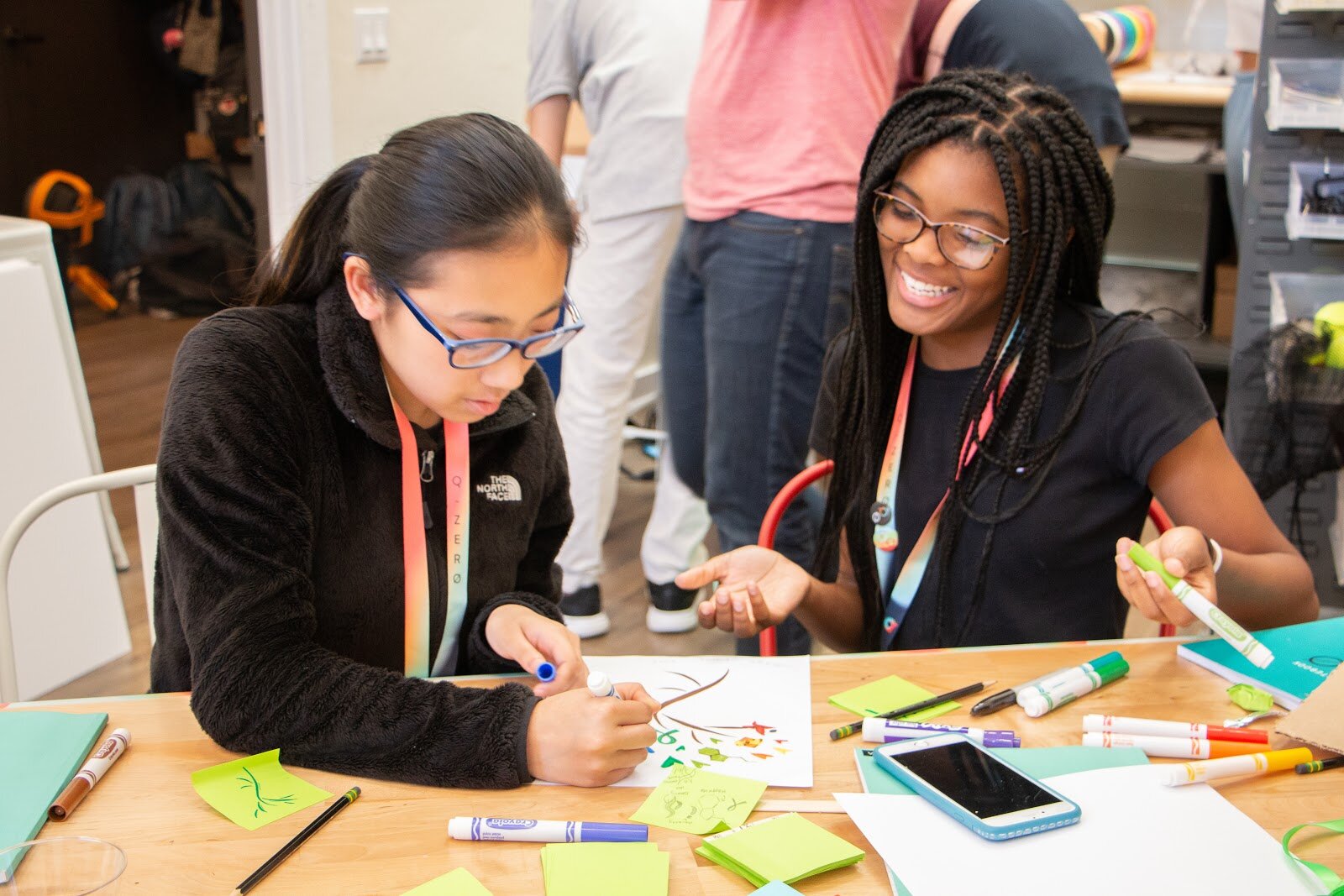 It's not a class "about entrepreneurship"—it's a daily opportunity to engage in entrepreneurship. (Imagine an art class where you just talk about art or a journalism class where you learn the history of newspapers. Yuck. Way to kill a subject).
When students first enter the room, seat them in teams. Don't use PowerPoints, notes or textbooks. Do not lecture.
Let the students know that they are in charge. Their task is to learn to think like an entrepreneur, and that means finding problems they want to solve, working in teams to develop solutions, talking to customers to test their ideas, and learning to pitch their products.
Every day, ask students to share their ideas and experiences and encourage open-ended discussion. Your job is to coach them, to fill in the knowledge gaps, to guide them in their experience—but your job is not to tell them what to do. It's their turn to steer the ship.
#2 Design Challenges
One way to tap into students' creativity is to kick off the class with design challenges, like these. A design challenge poses a specific problem for students to solve, like: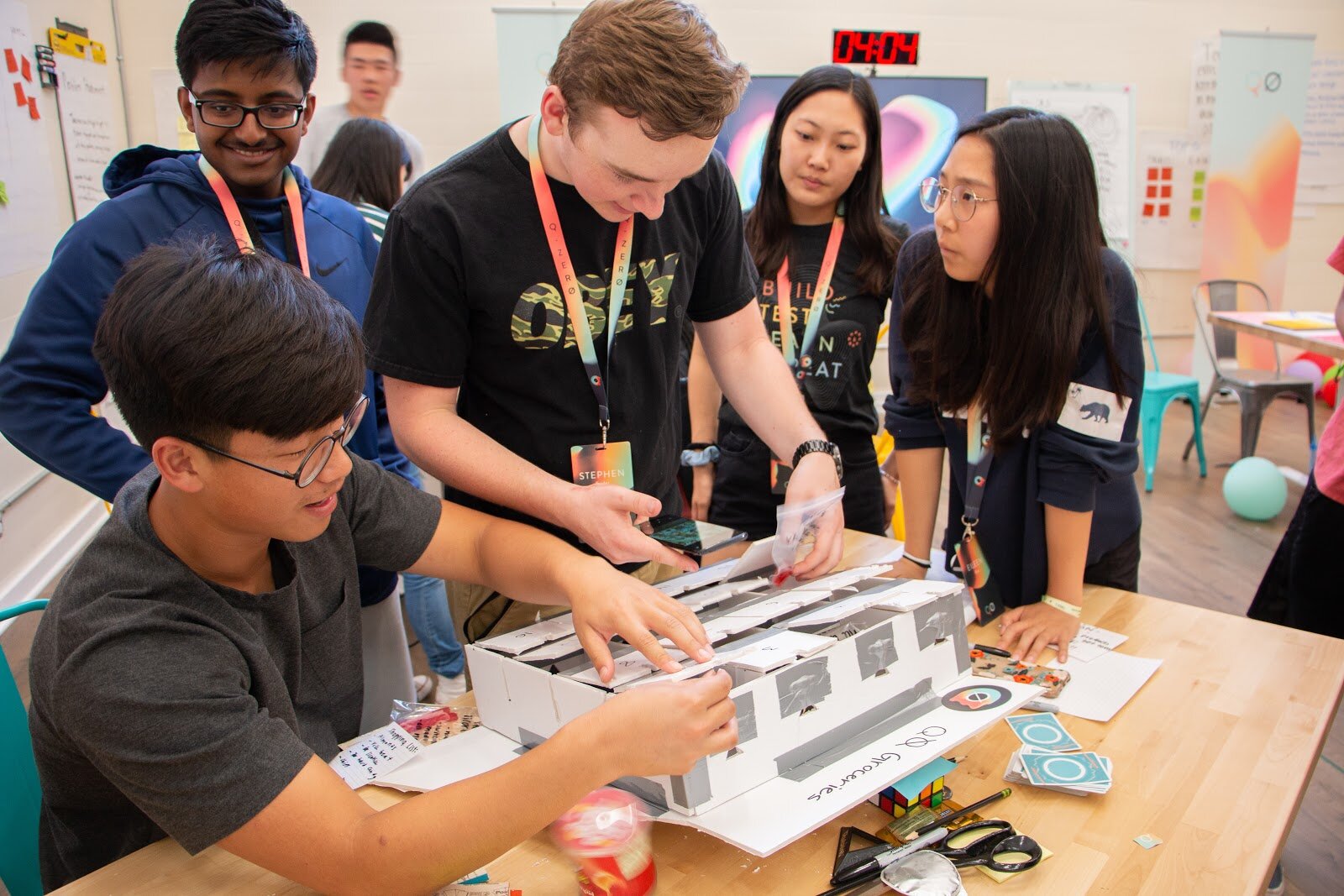 Design your ideal reusable water bottle

Design your ideal student desk

Design your ideal backpack

Design a system for reducing tardies in your school
Students like design challenges because they get to think creatively; they get to collaborate and talk; and they know there are no "right" answers. Their voices are heard, and they are taken seriously.
Best of all, these challenges build exactly the skills students will need in their entrepreneurial adventure.
#3 Immerse Students in Stories of Entrepreneurs
No, don't bore them with long-winded stories about the history of entrepreneurship. They already know about Thomas Edison, Henry Ford, and Steve Jobs.
But do share fun, quick-hit stories that let them see what's possible. (Do you know this story, about Gina and Scott Davis, who produce matching clothes for pets and their owners?)
Watch Shark Tank; follow IndieGoGo and Kickstarter; watch Youtube videos of student pitch competitions and listen to NPR's How I Built This Podcast. You don't need to play these in class—but save up the ideas so you can share a different one every day.
Also fun: Research some startup ideas that failed, like these. Students love hearing about flops, and it helps reassure them when their own ideas seem doomed.
#4 Build Team Camaraderie
Don't fall for—or share—the myth of the "hero-preneur." Entrepreneurship is a team effort and teamwork is something high school students are notoriously bad at.
Give students the opportunity to work with a number of different teams, and when they settle into their venture teams (which can easily take several weeks to establish), take time to build relationships within these teams.
Involve students in building team norms, working on simple shared tasks, and practicing open, honest and inclusive communication. This site has some good (i.e. not hokey) team-building activities that can be modified from the corporate to classroom setting.
Most important: Remember that most high school students need to learn how to work in teams; it's not instinctive, and it's not easy.
#5 Resist the Temptation to Fall Back on Traditional Teaching
This is the most important tip. It's easy to get frustrated—or feel like a failure—if students aren't immediately sold on your "classroom as incubator."
The solution? Persist.
How can you expect students to persist and try new things if you don't?
If you're wondering about things like "How will I grade this?" or "How will I make sure students meet the state requirements for entrepreneurship education?"—don't worry. We'll get to assessment in a future blog post. And those state requirements? Your students will learn everything they need to know by doing it, and it will be a whole lot more engaging.
Remember, your job is to cultivate young entrepreneurs, and there's only one way to do that.
Pro Tips:
Treat students like entrepreneurs, not students of entrepreneurship

Create a classroom culture that supports divergent thinking

Build team relationships
Martha Rush
Martha, founder and CEO of NeverBore Education Consulting and author of Beat Boredom (Stenhouse, 2018), is a nationally recognized teacher with 25 years of classroom experience. She has worked as a professional curriculum writer since 2011 and a workshop consultant since 2013. She founded NeverBore in 2015 with a mission to provide teachers nationwide with hands-on strategies to overcome boredom and improve student engagement and motivation. She now serves as Chief Educator-in-Residence at Quarter Zero and has compiled the QØ Teen Startup Handbook.