QØ Startup Camp | Santa Barbara, CA
Final Deadline Sunday, May 19!
The crash course in entrepreneurship fundamentals while enjoying the surf and sandy beaches in Santa Barbara, California.
The Experience
Nestled between mountains and ocean, lies beautiful Santa Barbara, CA. Entrepreneurs flock here for the emphasis on living a balanced lifestyle as much as they do for the growing startup scene. Our Santa Barbara QØ Startup Camp offers you real-life startup scenarios mixed with sun-baked local activities such as surfing, kayaking, and rock climbing. We've partnered with the University of California, Santa Barbara to give you the ultimate entrepreneurial education on the beach.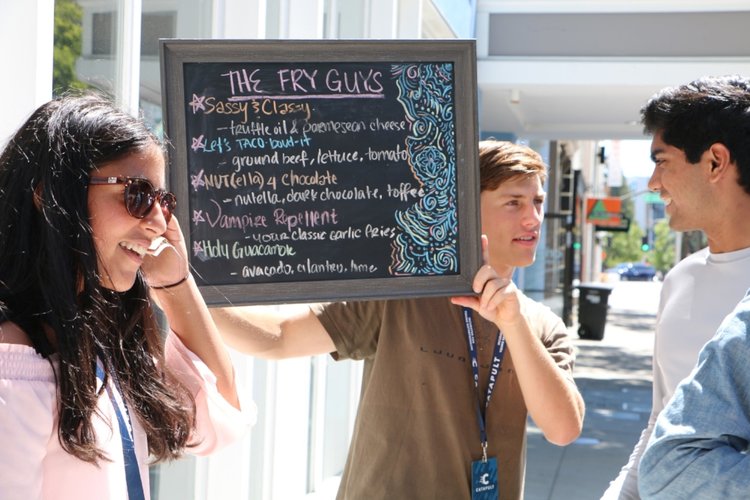 Understanding your customers is the only way to success. You'll learn how to conduct customer interviews, analyze and synthesize your findings, and come away with real learnings to apply to your next idea.
It all starts with an idea. We'll take you through the tried and true methods you can use to come up with your own startup-worthy ideas. Then we'll go over the tools for rapid prototyping so you can make your idea real, fast.
Product Testing + Selling
Learn how to identify your target market, find your first customers, and generate revenue, while iterating and improving your product.
Once you have a great product and some early customers, it's time to tell a great story to bring in a few employees and go after funding to help you scale. You'll learn the necessary elements for a persuasive story, how to design visuals that are compelling, and how to ignite the crowd when you are onstage.
Business skills sessions on Networking 101, Professional Communication, Data Analysis, Finance, and Legal Essentials.
Including surfing, sailing, paddle-boarding, kayaking, rock-climbing, beach volleyball, canoe battleships, and more!
Final application deadline May 19!
Program Fee
2019 Tuition*: $1,400
Room, most meals, activities, + local transportation**: $550
Total: $1,950
*Full Tuition scholarships and awards available
** Students are responsible for travel expenses to and from camp destination
Program Dates
Schedules currently available:
Week 1: July 7-12
Age Requirements
QØ accepts applications from incoming high school freshman to graduating seniors.
Accommodations
The University of California, Santa Barbara will provide student accommodations in its newest, LEED-certified student housing complex. All bedrooms come with two single beds. Students will eat most meals in a university dining facility.
Application Deadlines
We are currently accepting applications on a rolling basis as space allows.
Early Enrollment
Deadline: 1/13
Decision: 1/21
Benefits: Priority for program dates, compete against the smallest pool of applicants, and get a decision sooner.
Spring Enrollment
Deadline: 2/24
Decision: 3/14
Benefits: More time to apply, but competing against a larger pool of candidates.
Rolling Admissions
Final application deadline Sunday, May 19!